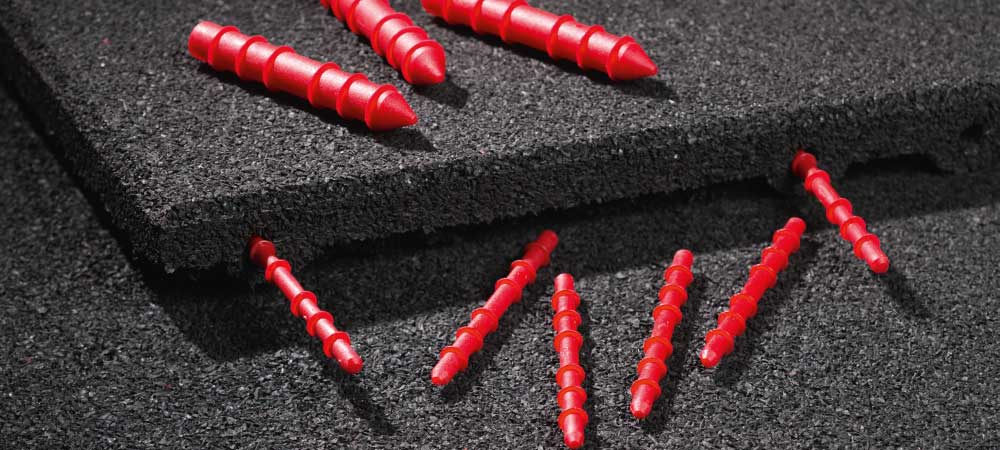 Terrasoft® System plugs
The Terrasoft system plugs are an installation facilitator with dowel character and serve for optimum position assurance.
Advantages
Easy installation of Terrasoft floor systems
Easy adjustment of the system plug
The firm anchoring of the plates minimizes the formation of joints, caused, for example, by heavy use.
Self-fixing – a bonding is not necessary in many cases.
Application
In order to achieve an all-round connection, the Terrasoft floor systems, which are connected by means of system plugs, must be laid staggered.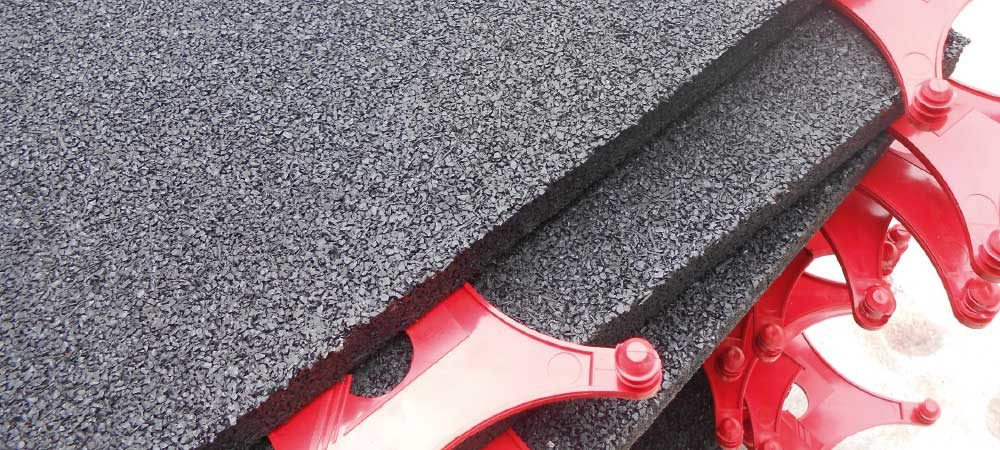 Terrasoft® Cross connector
In order to ensure a permanent connection between the slabs when laying in a cross-gap, and to avoid a shifting of the slabs between them, we recommend the use of the cross connector for Terrasoft Resilient Slabs 400 x 400 x 30. They are mainly used in Playpoint bases and patio systems. Slabs can be laid with the cross connector in both cross and staggered. Furthermore, with the slabs in the format 630 x 315 x 40 mm with the cross connector, an L-shaped laying variant can be realised.
Advantages
positive, free-moving laying of the Terrasoft floor systems
Bonding effect on the plate base
permanent connection element
Application
The Terrasoft cross connectors are mounted below the slabs in the corresponding recess and glued at points.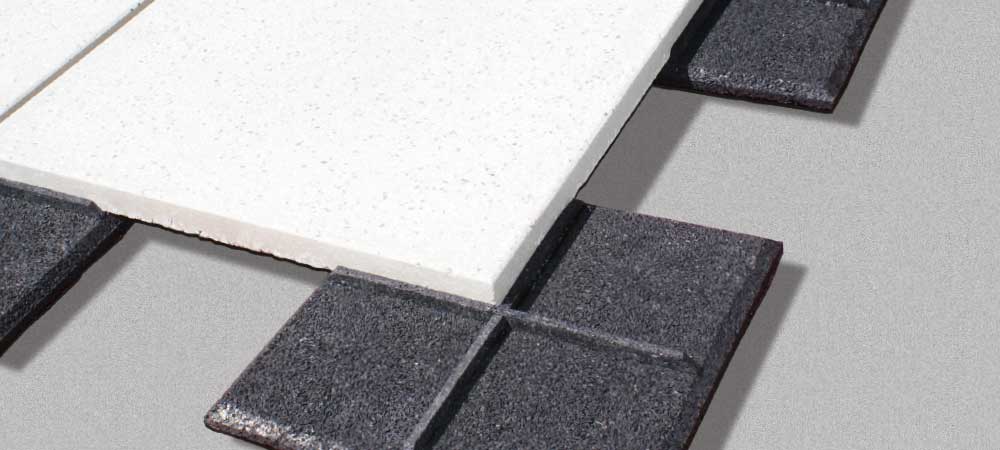 Terrasoft® Spacer
A practical supplement is the Terrasoft spacer. It ensures a uniform gap between terrace slabs and thus creates a visually appealing surface appearance. It is suitable for all floor coverings such as tiles, concrete or granite slabs. Since the joint distance is specified, tiles or plates are laid quickly.
The spacer is made of pure rubber granules and represents an absolutely attractive alternative to conventional joint spacing systems. The contact surface per slab and spacer is about 12 cm, which allows a high stability in the surface design.
Advantages
uniform joint spacing
can be used for numerous types of laying
shock absorbing pad for patio slabs
Supplementary product for concrete or granite slabs
frost-resistant substructure
easy laying
Application
The Terrasoft spacer is simply placed under the selected patio systems and provides a frost-resistant surface with even gap spacing.
Terrasoft® Power glue for joints
Hybrid adhesive for joint bonding
Free of solvent, isocyanate and silicone. almost odourless. Very good, mostly primerless adhesion on almost all, even damp, substrates. After curing permanently elastic. Fresh and seawater resistant.
Scope of application
All waterproofing and permanent bonding: on smooth and porous surfaces, inside and outside, even in damp rooms and on damp surfaces. Hybrid adhesive and sealant is used for bonding and sealing all common building materials.
Usage tips
The surfaces must be clean, dust and grease-free. Press out the cartridge with a hand or compressed air pistol.
As a seal: apply evenly. The smoothing, if necessary, must be done with a soap solution before a skin has had time to form. Clean tools with turpentine (crystal oil) immediately after use. Further information on product safety and handling can be found in our safety data sheet.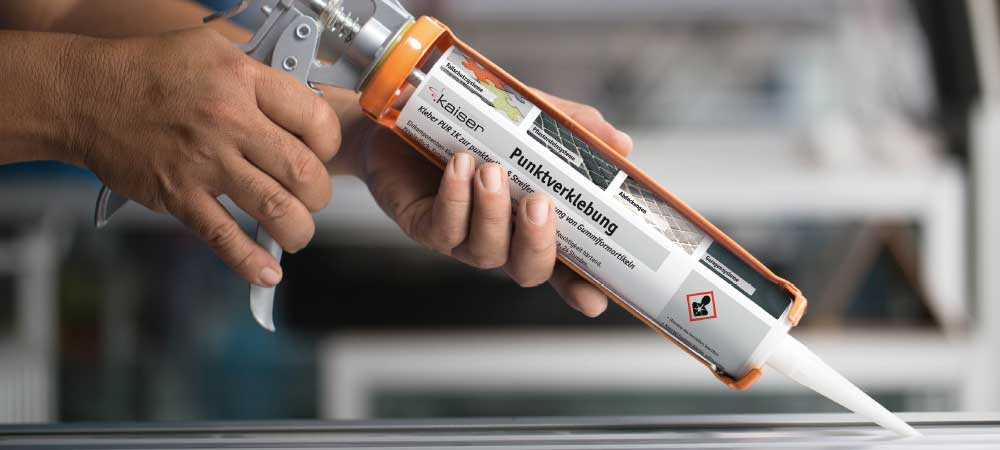 Terrasoft® Selective glueing
Adhesive PUR 1K for selective & strip gluing from rubber moulded article
Curing one-component adhesive by humidity and sealant based on polyurethane. Visco plastic. Functioning after approx. 3 hours, final strength after approx. 24 hours.
Work preparation
Surfaces must be clean, dry and grease-free. Adhesion and compatibility with plastics and paints must be object-related checked. Processing like silicone – Do not open the lid, just press it
Gluing
Apply material to the substrate with spatula or putty gun. The application thickness depends on the nature of the materials to be bonded. Lay on the counter material within 10 minutes and press on. Due to the pasty consistency of the material, it is advisable to fix the composite. The curing depends on the layer thickness and the humidity.
Requirement
For approx. 3 m² 1 cartridge à 370 g is needed.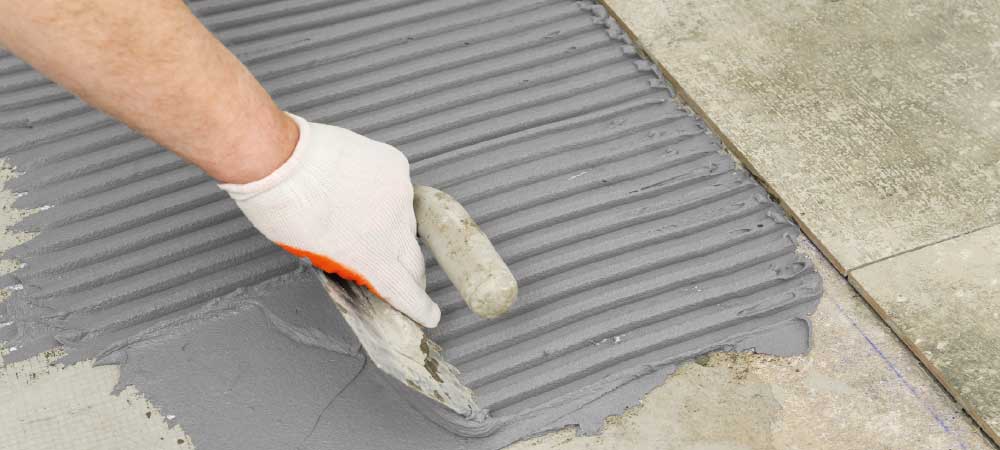 Terrasoft® Glueing for surface adhesion