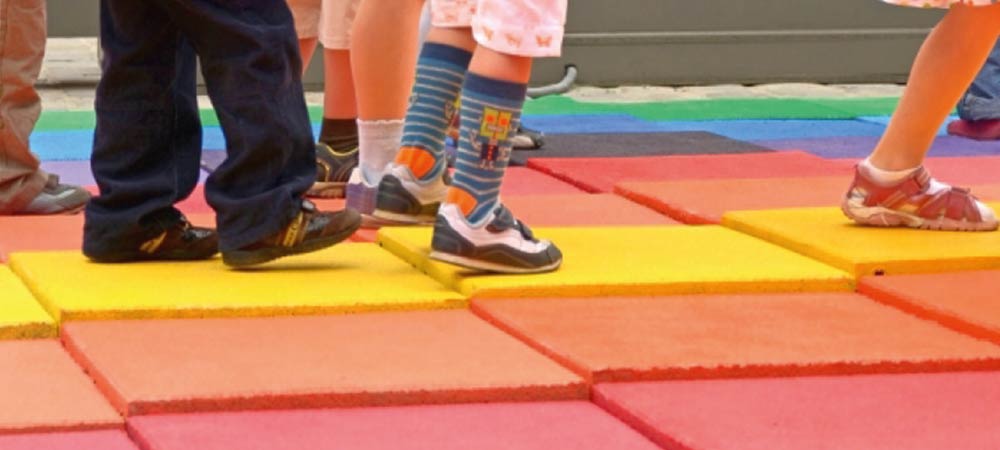 Terrasoft®-Slab | 45 EPDM
With the many EPDM colour combinations available, there are no limits to what you can imagine when planning a recreation centre. The top layer of these Terrasoft slabs, made of high-quality, PU-bonded EPDM, is manufactured only in Germany and provides a 1.50-metre optimum drop. Six different colour variations, ranging from bright orange to signal green, allow for numerous design variations.
In addition, benefit from what is probably the most comprehensive overall product range available on the market today: Terrasoft EPDM 45 slabs numerous edge and corner profiles in these colours.
Terrasoft EPDM 45 ground slabs come in many colours and are particularly suitable as a surface under playground equipment and wherever a unique, colourful design is desirable, such as in kindergartens and schoolyards.
Advantages
Minimisation of risk of injuries and breakages
Non-slip even in wet conditions
permeable to water / fast-drying
low maintenance
barrier-free usable
Application
The Terrasoft Slab EPDM 45 is available in numerous colours and is used, among other places, in areas that require a colourful area design, or as a fall-protective covering under playground equipment – for example at Kindergardens or schoolyards. Please observe the maintenance instructions.